Restaurant
Elegance, sophistication and unique flavors
Scroll
The Kitchen
Our kitchen is full of passion and identity and is led by young chef Andrea Ferrucci. We believe that tradition and innovation are the right ingredients to create combinations that surprise our guests. Our dishes are ever-evolving and spiced up with a touch of experimentation, but we don't forget the local traditions of Piemonte. We wish to convey our passion for food and cooking in a region that is blessed with so many delicacies and traditional products: each new combination is seasonal, respectful of nature, balanced and original.

The main room
Decorated with top-grade materials, the room is warm, welcoming and spacious to guarantee privacy and quiet. The wide, arched windows and the imposing ceiling are the legacy of the old workshop building that gave the name to the restaurant itself. 
Rooms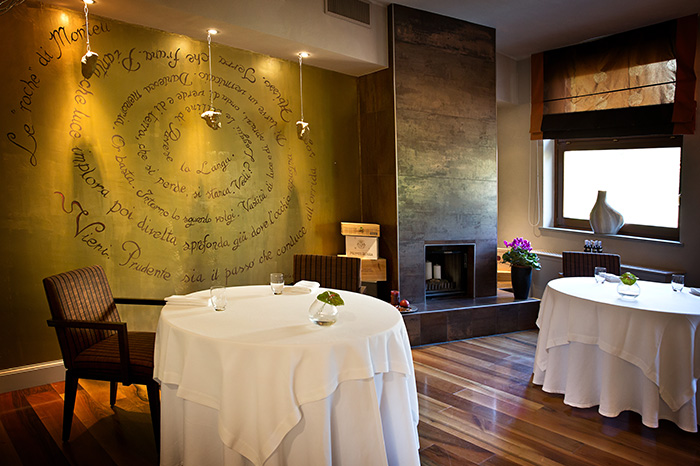 The Fireplace Room
Smaller than the main room, equipped with a fireplace and enriched with small details, it is perfect for romantic candlelit dinners. It is also distinguished by the poetry of the famous 20th century writer Carlo Cocito, written on a golden wall.
The Terrace
During the summer, our guests can dine on the terrace overlooking Montà's main square.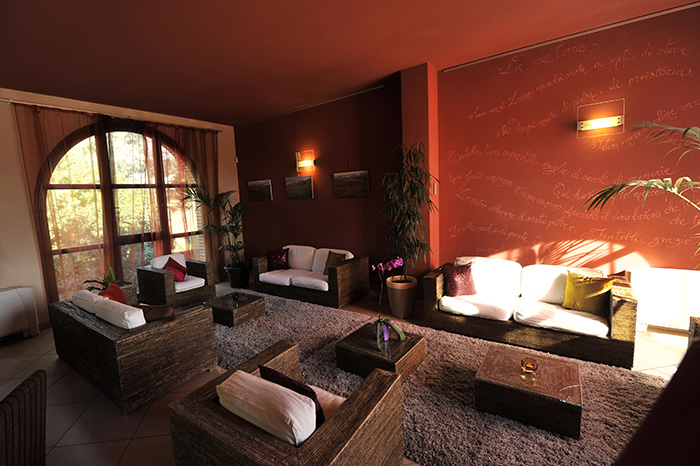 The Red Room
The Red Room, next door to the terrace, is the perfect place for an aperitivo, a coffee break or a private party (advanced booking is required). A warm room with plush sofas, it can be equipped with all the materials and supplies for company meetings.
Chef
Andrea Ferrucci
Chef Andrea Ferrucci's cuisine is based on creativity. Thanks to the expertise he gained from all over Italy, Andrea always succeeds in devising something original and uncommon starting from the typical elements of Piedmontese tradition. The core of his creations is represented by vegetables that he prepares with ever-changing techniques: by playing with textures, he comes up with unique flavors and dishes. Thanks to his skills and experience, Andrea has managed to successfully convey essence in his cuisine through the variety of raw materials from a particular area.
Find out more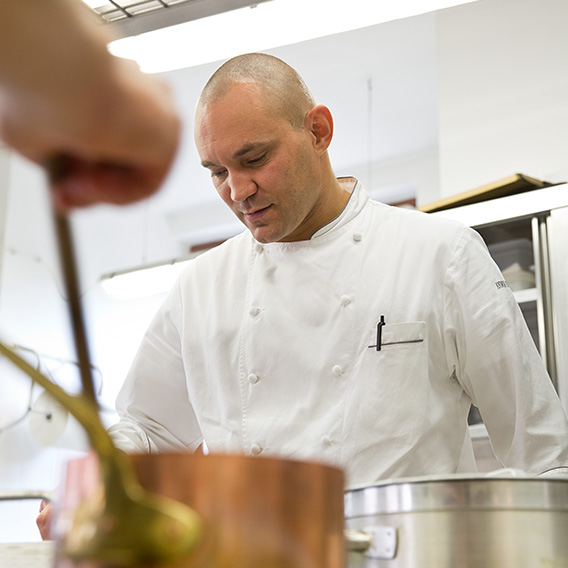 The vegetable garden
Our small vegetable garden is next door to the restaurant. Here we grow the greens – always fresh and seasonal – that we use to prepare our dishes. We pride ourselves on our vegetables, salads and herbs: they are representative of our cuisine. A regional cuisine, aimed to excellence.
The wine list
Our wine list reflects our love and our expertise and is the result of years of hands-on experience. We select the wines after tasting them at the winemakers', and we offer those wines that enhance our cuisine and that have the potential to fascinate and delight our guests. 
Find our more